So, I finally bought a digital camera. A Casio Z750. 7.2 megapixels, typical telescoping 3x lens, nice compact form factor. It's quite impressive. It hasn't seen daylight yet, so I can't do some true quality tests with it, but the indoor flashed portraits have come out disturbingly well.
It ended up costing about $470US, including a 1 GB SD card… that's about $640AU. At a glance online, that's about $300 less than what you'd be paying in Australia, so I guess I should be happy. It's more than I intended to pay, but I got cold feet once it came time to pull out the plastic, and decided to go with something decidedly high quality, rather than taking my chances on some of the cheaper but less well reviewed ones.
The major competitor was the Canon SD500 or SD550, but in the end the Casio was a little cheaper.
Anyway, with that little widget now available, I've finally got some photos of this place for people to see – available here. Shiny. :)
And here's my two housemates, Ashley & Brett (left & right, respectively).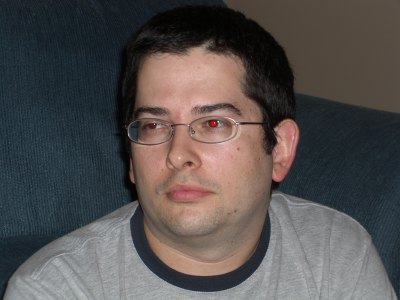 Why yes, Brett is a cyborg. ;)
Since it's nearly 1am now, and I do have work in a few hours, I'll have to cut this short for now… but I'll be back tomorrow with many more photos, and news (of what little there is).