This morning I was running errands before work, so I decided to – finally – check out the Aussie importers store just down the road. It put me in a good mood straight up as I parked outside, seeing the sign: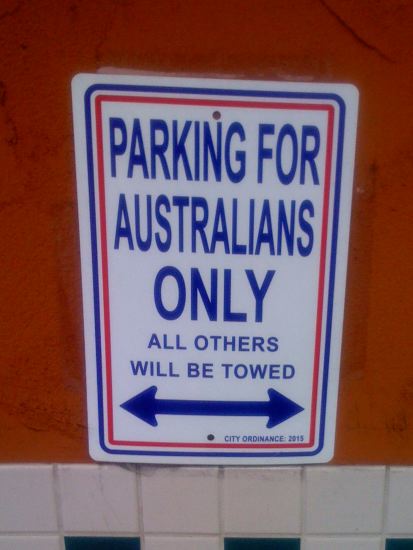 Nice. :D
Inside was about what I expected – way too many boomerangs and stuffed koalas and all that touristy crap. But, they did have an aisle of food, and I was surprised at the stuff they had… all the expected, like Tim Tams (in all sorts of crazy flavours I've never seen before), Cadbury chocolate, Flakes, those yellow bananas I was crazy about years ago, etc…. and of course Heinz baked beans, naturally. :D I can confirm mum can now visit here as well, if need be – they had her Nescafe. :P
There were heaps of things… Arnott's biscuits… even cake & muffin mixes… jams… I can't even remember… a whole bunch of random "hey, I remember these!" things.
So, I bought up a whole stash…
1 x Cottee's Blackberry Jam (I haven't found a jam here that's as good; that they had this surprised me but then immediately made sense)
1 x Chocolate-coated Tiny Teddy's
1 x Cadbury dairy milk chocolate family block
1 x Pizza shapes
1 x Savoury shapes
1 x Arnott's Classic assorted biscuits
1 x Tim Tam double-coated (oooh… mmmm… *drool*)
1 x Mint Slice (*sugar coma*)
I stopped myself there… though this is all for work, I knew I'd eat through it myself darn fast if others weren't so quick. Luckily, someone that isn't me has already gotten into the Cadbury family block and demolished the first two thirds, so I may be saved from that temptation. I have eaten half the Tim Tams though. I'm only human. :)
All up that cost $40.40… some things seem reasonable, but others – e.g. Cadbury family block – were a little silly at $7.55.
Even more surprising was that the girl on the till had an Aussie accent, which seemed really strong to me – and now I'm worrying that I'm becoming Americanised… anyway, this part confuses me: she moved here, to work, from the Gold Coast. Now, although the service she provides to society is pivotal, and everyone who's even met me knows I'm not being facetious – the reliable supply of Cadbury chocolate has thus far staved off world economic recession – I really must wonder about the simple sanity of someone who gives up life on the Gold Coast to live in the valley and run an anti-tourist shop.
Seriously, Apple really should build their next campus in Cairns (don't do Cairns != Gold Coast, I'm segueing here..)…
So anyway, that was cool, and it was good to speak to an Aussie again – I think she felt a bit the same; while there was a couple in front of me to pay, they were American. I haven't received any rulings from coworkers yet… but the Tim Tams were justification enough, in any case. :)