Last Sunday Rob & I organised to head out and go flying one more time before our presentation. We had intended on flying at uni, above the sports grounds, as we usually do. However, upon arriving we found that there were two (or was it three?) cricket matches going, a baseball game, and various other activities, rendering every scrap of open, flat land in use. While I was happy enough just to fly above them all – I travel light and can easily speed off into the sunset if necessary ;) – Rob was naturally not so inclined. Thus, we hit the Melways in search of alternate fields. We wanted to stay near the La Trobe sports grounds, as our test flight path at the time covered that area, and we didn't want to have to go making a new one on the spot. So, we settled on the sports grounds just across the creek, opposite Reservoir High School on Plenty Road. While there was a cricket match going on there as well, the footy oval was relatively unoccupied – a few pesky kids, all much smaller than us – and there was plenty of extra space around that.
So, we set about our flight prep. I had my cameras with me, but I have to run double-duty as camera man and Bluetooth guy. I wasn't expecting anything terribly exciting in this particular flight – I've already filmed three in the last week – so I left the camera in the car. And then, typically, the universe decided to break out the good stuff just for that off-the-record flight. It started out reasonably well – Rob took off under manual control, flew about a bit to gain some altitude, and then switched on the autopilot. I was checking the Bluetooth log as he was doing that, so I didn't really catch the end of the flight, which was as quick as it was unexpected. While turning around towards the first waypoint, the plane's wing snapped and folded up into a V, which doesn't quite meet our aerodynamics requirements. The plane quickly entered a spiralling death dive, smacking into the ground all too hard for our liking. Rob quickly went to retrieve the plane, while I made double-time back to the car to get the camera.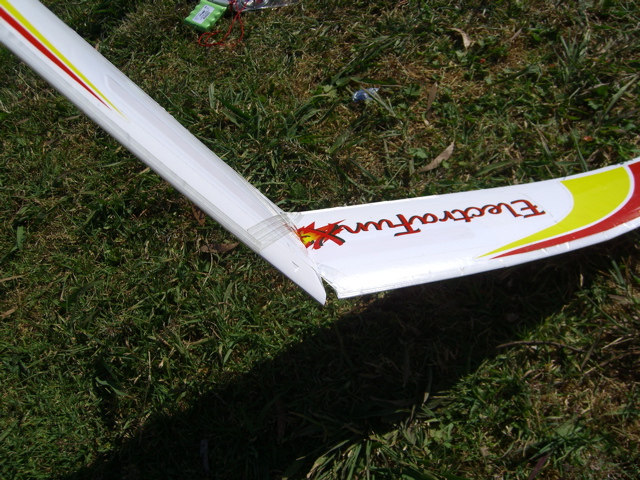 I filmed the aftermath of the accident – Rob looking non too happy as he walked back to the car, mortally wounded plane in hand, and the brief interview that followed. Our first act, however, was to retrieve the MMC card and check out the flight log. Luckily the flight log was perfectly intact (we've been having some issues, possibly due to brown-outs to the AVR, with logging failing). We got some nice charts of our flight – particular interesting in this case was our elevation over the flight:
It's not too difficult to pick out the oh-no point.
My immediate thought was "oh great, typical, the day before the presentation we go and smash up our board". Luckily, it survived relatively unscathed. A few pins were bent on the servo headers, but there was no other visible damage, and the board's still working just fine to date. Luckily the plane is plastic, with foam in various places inside, so it absorbs a bit of the impact. Plus, there's a lot of different components jammed inside the plane, which I imagine form a kind of haphazard flexible net.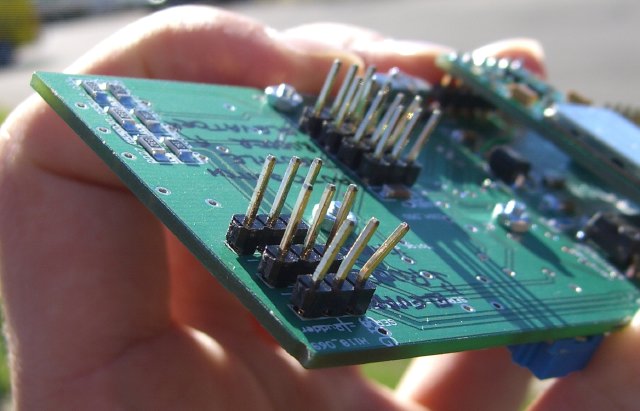 It was all rather unfortunate, nonetheless. Luckily Rob has a spare wing – albeit not as good as the one that broke – and he's been able to keep flying since. Still, it did gather a few laughs and understanding grins in the presentation & demo, and also demonstrated that our board can survive a pretty bad crash. In fact, the board survived better than the plane itself – some new dints and scrapes, and a crack in the body near the motor.
Rob's also put up some info – including maps and flight logs – on his blog, specifically this entry.